Implementing Yogic Techniques for Speech Therapy
Course Objectives:
At the end of the session participants will be able to:
Know the causes and effects of stress & anxiety.
Discuss the benefits of movement.
Demonstrate knowledge of 5 yoga poses and the benefits.
Demonstrate 3 ways to implement yoga & learning into a speech session.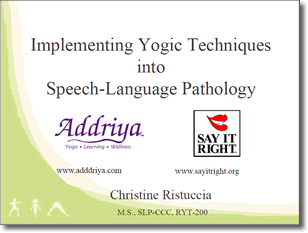 Download it for free today!
You can also download the handout (a smaller version of the same material).
Helpful Links
Implementing Yogic Techniques