Having trouble customizing your Vocalic R or Prevocalic R Treatment Plan?
Try our Evaluation Support Package:
Direct Support from the Expert!
Members Only Specials
Customized Plans
Only $149/Year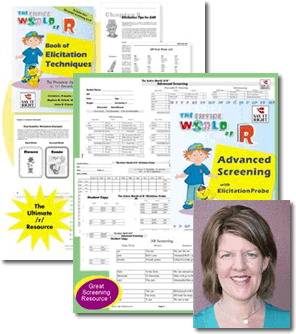 Package Advantages
Helps You Get Started With /R/ Treatment
1

Review Screening

We will help you get your student started. You will conduct a screening using The Entire World of R™ Advanced Screening and send an audio file to us for review.
2

Customized Options - Training

Say it Right will use the protocol found in The Entire World of R™ Book of Elicitation Techniques to provide customized options.
3

Goals and Practice Objectives

After using the evaluation tools we will provide you a written list sent by email with goals and objectives so you can save time and start the program.
Package Advantages: Who Benefits?
Speech-Language Pathologists (SLPs)
SLPs with limited experience working with /r/ articulation disordered children or SLPs having difficulty making progress.
Parents
Parents that desire more information on treating "r" sound problems for their children.
ESL Instructors or ESL Speakers
ESL instructors needing precise instruction on correcting /r/ production difficulties in their students or ESL speakers who want to improve /R/ sound.
Package Advantages:
Support and Specials
30 Minutes of Phone Support

We will discuss any issues you have with our recommendations or program for up to 30 minutes any time during your membership period.

Email Support

Email support (1 email per quarter) will also be provided to help answer any specific questions you have.

Support Package Specials on Recommended Materials

Monthly Discount on recommended materials.