Getting Started with Speech Therapy
The basic premise behind our Speech Therapy Products and Speech Development Program is to first Screen, then Train, then Practice.
How to Get Started with Say it Right
Screening
We have videos -> under
"Free Training Resources - Free Videos"
about how to use our screening tools along with the
age appropriate developmental charts
for speech sound development. Try watching the video about
how to score our screening tools
. The purpose of the screening tools is to find a correct production or key word which helps determine placement of the tongue, lips and jaw.
Training
Being a trained clinician in speech sound disorder intervention is the key to success. We invite you to watch our videos about training and use our instructional workbooks for speech sound disorders.
Practice
The final stage of the intervention process is practice: We have workbooks, cards, games and flip books to use for production practice which are motivating, fun and easy to use. All in downloadable format if needed.
The following materials help with r remediation. For more information about this subject check out this article: Why the /r/ Phoneme is so difficult to crack.
Video Training
We have many speech therapy training videos availabe to help you - Speech Therapy Training Videos.
Free Speech Therapy Materials
We have developed and provided many Free Training Resources and Materials to help SLP's, Educators, Parents and Teachers to help correct the appropriate speech development issue.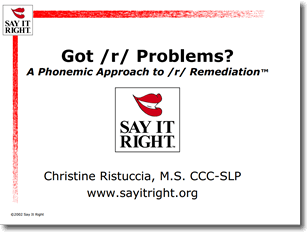 This free Speech Therapy Material will help you with /r/ Remediation.
Download it for free today!
Getting Started
Screening
Training
Practice